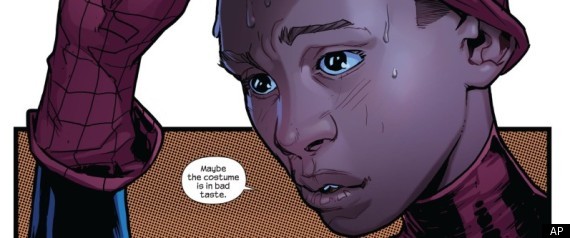 That's right there is a Black + Puerto Rican Spiderman, well
Ultimate Spiderman
. In an alternate universe Peter Parker is killed by the Green Goblin and a new teenager takes up the costume as
Ultimate Spiderman
:
Miles Morales
. Miles is half Black (father) and half Puerto Rican (mother).
This is pretty damn awesome!
I caught the story via
USA Today
which also had another story talking about one of the
inspirations
. Turns out
Donald Glover
, from
Community
(awesome show btw) auditioned to for Spiderman in the upcoming "
The Amazing Spiderman
" but didn't get the part. As a joke he wore a pair of Spidey pjs on an episode which reaffirmed Ultimate Spiderman writer Brian Michael Bendis to continue with his Black/Latino Spidey.
Once again, this is pretty damn awesome!
I'm gonna have to support this comic from here on out. Now if this ever gets picked up for a movie I'll be auditioning for Ultimate Spidey since I'm Puerto Rican and Black and a spidey fan to the death of me.