Last night the the New Meadowlands "officially" opened, hosting its first ever football game. (
I was there
last week for the
USA vs Brazil
soccer match
). Rightfully so the game was between the co-owners of the stadium The New York Jets and the New York Giants. Don't remember being so hype for a pre-season game ever in my life, but I really wanted to see what these "new" Jets were about. I also wanted to see what the Giants would be like after their disappointing end to last season.
I only watched the first half, as the starters played most of it (Jets starters played all of it). On the Jets first offensive series Mark Sanchez forced a ball into new Jet LT (who was double covered) and had it picked by new Giant Antrell Rolle. (I think this is foreshadowing of how the season will go for Sanchez, forcing throws to make plays and turning it over). After the early mistake Sanchez did settle down and lead the 1st teamers to 3 scoring drives. The Jets defense looks as good as advertised and potentially better then last year's #1 defense. I say potentially because they need Darrelle Revis to pair with Antoino Cormartie (who shoulda had 2 picks yesterday). Overall the 1st teams looked good though.
The Giants 1st teamers, on the other hand didn't look so great. Their first TD was set up by the interception return. While the G-Men addressed their secondary in the offseason, they didn't add a LB to take over for Antonio Pierce who was the QB of the defense and a great communicator. That lack of communication led to an easy TD for the Jets, as they caught the Giants subbing out players (Pierce would have noticed and called timeout). The offense looked out of sync and could only muster up a drive that got them a FG. That drive was greatly helped out by a broken play turned into a 51 yard gain (Ahmed Bradshaw is a beast #fantasyalert). They're seems to be some confusion about the identity of the team, do they want to run (they should) or pass. This was so evident on a play close to the goal line. The Giants were set up for a power run play, when Eli Manning saw 1 on 1 coverage and decided to adubile to a fade. Problem was only he knew what he want to do. Jacobs expecting a handoff bumped into Eli causing his hlmet to losen...it was eventually knocked off putting Eli in a #jealoused position:
#jealoused

Bad things happen when helmets come off....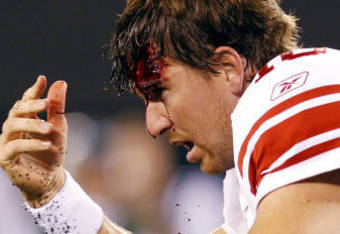 #theBloodyJealous


Eli was ultimately alright, just needed 12 stitches. I hope he learned the most important lesson he could ever learn:
#1 Don't Jealous Yourself!!!
Although I stopped watching, the Giants went on to win 31-16 with some guy named
Victor Cruz
(
former UMass star
) catching 3 TDs. Can't wait til the regular season.
#LehGo!