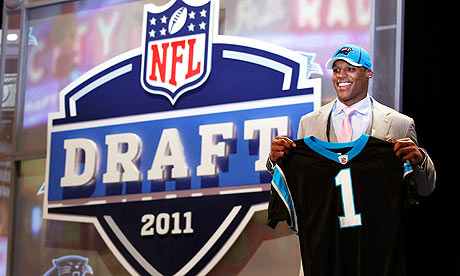 The 1st round of the NFL draft kicked of last night. I wasn't excited as I usually am because of the lockout, but since the
judge ended it earlier this week
I regained my excitement. This draft just like any other had some things we definitely saw coming (see photo above) and some surprises. Here's my take on the 1st round.

#Respect

Atlanta Falcons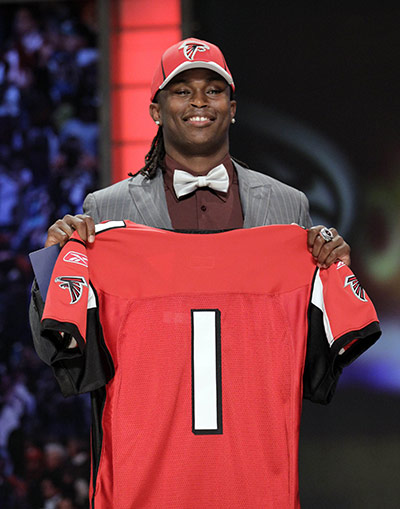 Wrong side man
Trading up to draft
Julio Jones
a big, physical, tough, surprisingly fast WR to compliment Roddy White was definitely a good look. I was a little shocked they gave up so much for him but I like him and think he will be a great receiver in the league, better than
AJ Green
.
Detroit Lions
Drafting
Nick Fairley
.
Fairley
was such a beast in the National championship game I thought he may have gone number 1,
I wasn't the only one
. That talk died down but he was still looking like a top 5 pick. Somehow he fell to 13 where the Lions didn't
need
him, having drafted
Ndamukong Suh
last year but they nabbed him anyway. Suh and Fairley on the same defensive line
#ridiculous
.
New Orleans Saints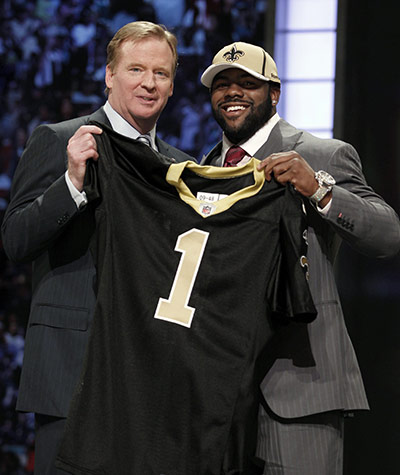 Any team that gets two picks in the 1st round gets
#respect
. Drafting
Cameron Jordan
was great. He will help the defense and be the heir apparent to Will Smith. Trading back into the 1st round to pick up
Mark Ingram
was excellent. Ingram is the perfect power runner to compliment the other Heisman winning RB on the roster (
if he is still there
).
Cleveland Browns
The traded their 1st round pick (the aforementioned Jones) to Atlanta for 5 picks.
1-2-3-4-FIF
. Not just any 5 picks either, Atlanta's 1st this year (
which they flipped
), 2nd and 4th this year and next year's 1st and 4th. I'm sure this year's 1st and 2nd would have been enough to close the deal but the Browns push to the max (or took advantage of ATL's thirst) to get those additional picks.
Good Look
Dallas Cowboys
Drafting for need instead of headlines.
Tyron Smith
will help the O-Line just not sure if it will be at Left Tackle.
Washington Redskins
Resisting the allure of the QB and trading down for more picks. I think Ryan Kerrigan could be a bust though.
Jacksonville Jaguars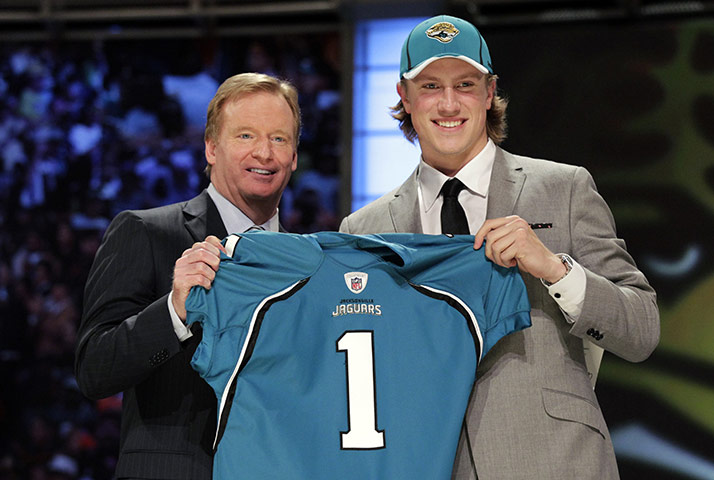 Trading up to get Blaine Gabbert. I didn't think Gabbert would be good in the league but now I think he has a chance to. He can sit behind David Garrard for a while and learn.
New York Giants and Jets
Prince Amukamara
fills a definite need at CB for the Giants. Muhammad Wilkerson fills the need for a giant DT for the Jets.
Baltimore Ravens
Ravens had an excellent draft last year and started this one of pretty good as well drafting Jimmy Smith to fill their CB needs. He has some character issues but Ray Lewis and Ed Reed will whip him into shape.
Teams who drafted Offensive Lineman
Usually cant go wrong when you draft O-lineman because if they're young and healthy they're good and some even great. So good look to the Cowboys,
Dolphins
,
Patriots
,
Colts
,
Eagles
,
Seahawks
,
Bears
and the
Packers.
Surprise Surprise
Minnesota Vikings
Cristian Ponder at #12? They must have really loved this guy. I think they could may have been able to get him in the second round. If they weren't confident they could have waited then they could have traded down a little lower in the 1st, get some additional picks, and then drafted him. They botched this one.
Tennessee Titans
Jake Locker at #8? See above about Ponder.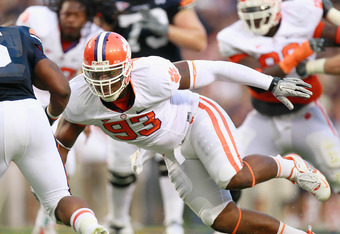 Da'Quan Bowers
This guy was once talked about as the #1 overall pick. and he didn't even get drafted in the 1st round. Guess his knee injury scared people off. can't imagine him not going in the top 3 picks in the 2nd.
I thought they'd go with
Marcell Dareus
, a bit of a safer pick, instead they opted for
Von Miller
who I think is a potential bust.
Beware
AJ Green WR, Bengals.
For some reason he reminds me of
Charles Rodgers
. I think he'll be productive but not great, just not blazingly fast. And who is throwing to him?
Von Miller OLB, Broncos. Always weary of a hybrid DE/OLB tweeners. Without the proper inside help he may not get many sacks.
Aldon Smith DE, 49ers. See above.

Ryan Kerrigan DE, Redskins. Ditto.
Robert Quinn DE, Rams. Ditto again lol.
Johnathon Baldwin WR, Chiefs
. Has a chance to be good because Dwanye Bowe will get doubled but he's big and slow.