Just got word that the
Orlando Magic
will be
growing beards until there playoff exit
. The "
Playoff Beard
" is a common thing amongst athletes most notably
NHLers
, but not exclusive to them. Brent Keisel most recently grew his during the NFL playoffs (which has its own
facebook page
) and Brian Wilson last year during the Giants World Series run.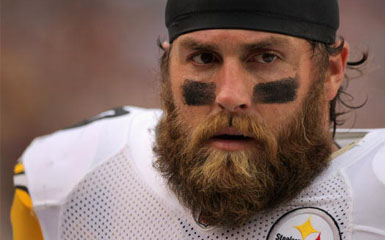 Visit it on Facebook
Fear the Beard
Well I love beards and consider myself a member of the
#beardgang
even though I have nothing more than
billy goat scruff
(actually a lot less than that lol). Nonetheless this Magic thing reminded me of something I thought of a while ago; Top 5 beards in the NBA. Here we go:
5
.
Ronny Turiaf
-
#norespect
to the man's prison straight backs but much
#respect
to the straight scruff.
No razors allowed in prison, or designs
4
.
DeShawn Stevenson
- Beard, tats, #92...dude just doesn't care and I
#respect
that.
#thuglife
3
.
Baron Davis
- No one doesn't care more than B.Diddy. Only thing bigger than his beard is his belly.
No working out + No shaving = Ending up in Cleveland
2. Deron Williams
- DWill stay fresh, he must get a cut everyday.
Yes, I get a shape up daily.
1. James Harden
- Rick Rossesque
Whoo #SayitlikeRoss
Honorable Mention:
John Salmons
,
Rip Hamilton
,
Old Drew Gooden
.