When I was 16 I went to Washington DC for a week as part of some High School convention for US History/Government students. It was an excellent trip, I learned a lot. Met some very cool, young smart people.
Naturally we spent some time seeing historical sites, museums and the monuments. A few things stood out for me and are etched in my memory: Seeing the Declaration of Independence, sitting in on a Congressional sub committee meeting, walking through Congress and visiting my aunt who represented the 4th District of GA at the time.
The single most important experience was going to the
Lincoln Memorial
, but not for what you might think. Yea,
Honest Abe
played a big part in freeing slaves nationwide (he only did it to preserve the union) but it was all about the King for me.
I was looking for the spot where Dr. Martin Luther King Jr. delivered the "I Have A Dream" speech. Luckily its marked out on the steps of the monument. When I stood in that spot something amazing happened. Everything went silent, my vision blurred a little and then refocused. All of a sudden I could see the sea of people who were there on that day and a giant chill went through my body. (I'm getting chills thinking about it now). For a brief moment I felt what Dr. King felt on that day. It was so powerful that I cried (crying now). I emotionally called my mom to explain it all.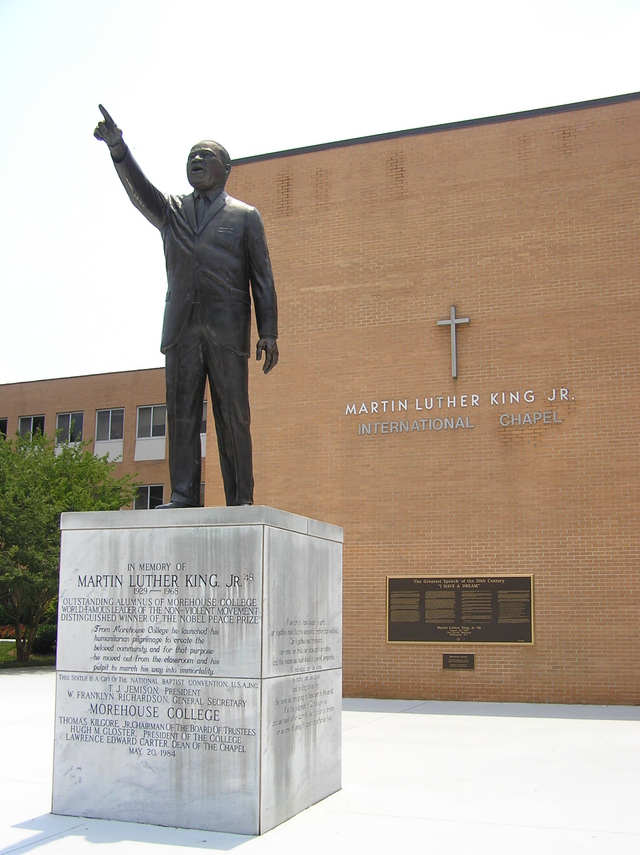 I felt that same power in late August 2005. I had just started my freshman year at Morehouse College, his alma mater. One night I sat at the foot of his statue and thought to myself "This man was here, walked these streets, sat in these classrooms and now I'm here." The same chill I had felt a few years earlier rushed through my body. With the same emotion I called my mother, this time also thanking her. During my time at Morehouse I would often reflect on that moment and rejoice in it. It often served as motivation, encouragement and guidance. I honestly don't think I could have joined him as an alum without him.
There is so much that I can say about Dr. King and how great he was. No matter what or how much I say I wouldn't come close to doing him justice. His life and the things he did in it were amazing. He was the most important person of the 20th Century. Life wouldn't be what it is now had it not been for him. For that he shall always be remembered.