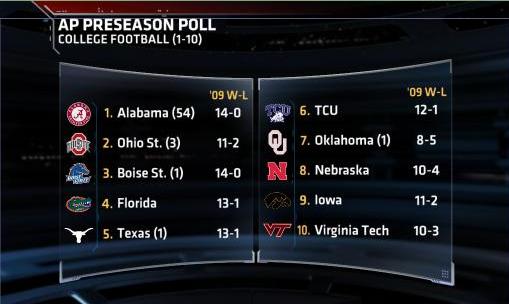 College Football returned last night, I should say that
Major
College football returned:
my Alma mater played their first game of the season last weekend.
The big boys,
Football Bowl Subdivison
D-I, started yesterday with a bevy of games.
Ohio St vs Marshall
,
The U vs FAMU
,
Pitt vs Utah
, and a couple of USC games:
South Carolina vs Southern Mississippi
and
Southern Cal vs Hawai'i
were the headliners.
I'm so happy College Football is back. Of all sports I think its my favorite (depends on the
day
season lol). I really do love it though. The traditions, the rivalries, the stadiums, the fans, the uniforms, the history (kinda), just about everything except the preseason polls. Ah, yea, I hate em. They're stupid.
Every summer miscellaneous publications put out their preseason top 25 rankings. The most prominent of these are the
Associated Press
and
USA Today
. The AP poll (as well as many others) consist of writers (
#norespect
) while the USA today poll consist of 60 coaches (
#alilrespect
). In actuality the preseason polls are guesses of how well teams will do this upcoming season based on returning starters, incoming recruiting classes and bowl performance. There really isn't anything wrong with that, we all guess how well teams will do. The problem is that preseason polls become the "be all end all."
Pollsters spend so much time researching (I say that sarcastically) and constructing their preseason polls that they do their very best to stick by it as long as possible. They will not move teams until they absolutely have to (when a team loses). So every week they will have the same top 5 as long as no one loses. Even if their top teams lose they don't drop them that far. A perfect example of this is last year when BYU beat Oklahoma opening weekend. Joe Schad only moved BYU up to 13th because they weren't in his preseason poll and had Oklahoma at 12. Even though he is not an AP pollster you can imagine that some think just like him. The
AP did get it right
dropping OU to 13th, but really without Bradford were they the 13th best team in the nation?
This problem of sticking close to your preseason poll can also be seen in a different method. Suppose a team unranked in the preseason opens up 3-1 against "ranked" opponents while the highly ranked teams open up 4-0 against cupcakes or with 1 lose? Shouldn't the unranked team rank higher? I mean they played and beat better teams right? Wrong. Ask
Miami
. Last season they opened up 3-1 against 4 ranked teams and ended ranked #11 behind a team the beat (VT) and some other teams who had easier games (Cincinnati, LSU, TCU, Boise St, USC, OSU).
Then there is the issue of over ranking. If a team finishes out a season strong (few wins and a win in a bowl game) and return a few star players they are vaulted into the next seasons top 25, usually in a place they don't deserve. We saw this in '08 When
UGA was ranked #1
thanks to finishing with 8 straight wins in '08, mashing Hawai'i 41-0 in the Sugar bowl and returning Knowshon Moreno and Matt Stafford.
We remember how there season turned out
. Some examples of teams getting over ranked last year are: USC preseason #4 finished #22, Ole Miss preseason #8 finished #20 , Oklahoma State preseason #9 finished
unranked
, California preseason #12 finished
unranked
, Florida St preseason #18 finished
unranked,
Norte Dame preseason #23 finished
unranked.
It happens every year and it leads to "
upsets
":
#3 USC losing to Washington
,
#5 Oklahoma State losing to Houston
,
#4 Ole Miss losing to South Carolina.
If there weren't preseason polls those games wouldn't have been called upsets, just teams losing to teams just as good as them or better (except the SC game).
I think preseason polls should be done away with, at least in terms of importance. Its cool to have a few people write out their lists early on so we could have some hype build up, but I think the AP should put out their 1st real rankings during the season, say week 4. After teams have gotten in a few games and actually played. Then you could really say who is #1, based on play as opposed to how you picked them in the preseason. Of course it usually doesn't matter because of the early season
cupcake games
that "
top
" teams play, so you can't really gauge who is better than who because of the lack of competition but I think it would force teams to have a more interesting early schedule. This probably wont happen so all we can ask for is that the pollsters actually re-evaluate their lists every week, really go through and rank the best teams as opposed to just keeping them the same if no one has lost. We, the fans, deserve something better.